Facebook has the tools and the information to both infer your emotions and to manipulate them. Studies have shown that they know more about you than those closest to you, even if you haven't filled out anything in your Facebook profile.
It remains unclear how diligent Facebook is in protecting its user's privacy, especially when their primary source of revenue depends on the data it collects from its users.
As an agency that manages millions of dollars of ad spend, we get to help our clients benefit from the data made available by Facebook.
In this piece, we go through how Facebook collects such accurate data, and some of the ways we've used the platform to help businesses execute highly effective advertising campaigns.
Perhaps you've read or even feared that your online activity on Facebook may be used to give advertisers and other interested third parties data about you and your behaviour.
The reality is much more complex.
This article summarises the kinds of data Facebook collects on you and where they get that data from – so that you are not flying blind.
The issue of privacy has become a hot topic over the last year, and more recently due to the Cambridge Analytica scandal.
There is a lot of innuendo regarding personal privacy and the lengths Facebook will go to in order to profit from it.
It is clear to see why Facebook has grown so rapidly and why it has such an engaged user base. It is an effective, user-friendly platform to engage with friends and family and to get news.
People Pay To Use Facebook With Their Privacy.
Facebook, in fact, is pretty transparent about it all.
However, people just ignore it or don't understand all of the consequences of having an open facebook account.
When I explain how Facebook collects and uses the data on its users to clients, friends or associates, its common to hear "wow, I never knew that was happening… I have to rethink Facebook!"
By the time you're done with this article, you'll probably think the same thing.
Most people don't really think too much about what Facebook tracks and collects about its users. When I have asked, people tend to say, "I know they track my activity on Facebook – what I like, what I comment on, what I share, and maybe even what I post and write about. "
That's actually just the start.
Facebook Has A Detailed Dossier Of Information About You.
They have this because they have compiled this data from multiple sources. In total, there are five major ways Facebook collects information on you and other users:
Your activity on Facebook
Your browsing behaviour
Your activity on other Facebook properties
The apps on your mobile phone
Via third party offline data brokers
click
Here is a more detailed explanation of each:
Tracking Your activity on Facebook
Facebook builds its profile of you starting with the information you provide it voluntarily – where you grew up, the school you went to you, your relationship status, etc.
Then they track your activity on Facebook.
Everytime you like a friend's post, tag a photo, update your favourite movies, post a comment, or anything else, Facebook logs it.
Even if you don't click on anything, they track how you scroll, where you stop, and where you don't.
In other words, everything is tracked.
They collect payment information if you buy something on Facebook, in a game or make a donation. They track who you communicate with most often – which individuals and groups.
They put all this information together to figure out what this says about you.
They also track when others interact with you – when they tag you into a photo, when they share a photo of you, send you a message or upload and sync your contact information.
They add all of this to your activity file.
You may not think that this amounts to that much, but that's not what the research shows. A study from Cambridge University in the UK determined the number of likes a sophisticated computer algorithm (like the one Facebook has) needs before it can detect your personal characteristics as well as, or even better, than your work colleagues, a good friend or roommate, a parent or sibling and even your spouse.
Here's what it found:
It took just 10 likes for the computer to know you better than a work colleague
It took 70 likes for the computer to know you better than a close friend or roommate
It took 150 likes for the computer to know you better than a sibling or parent
It took just 300 likes for the computer to know you better than your spouse
The study found that the average Facebook user had 277 likes at the time of the study (in 2014). To get a sense of how many likes you've given, you can log into Facebook, and click on the downward arrow to reveal your settings. Then click on "Activity Log":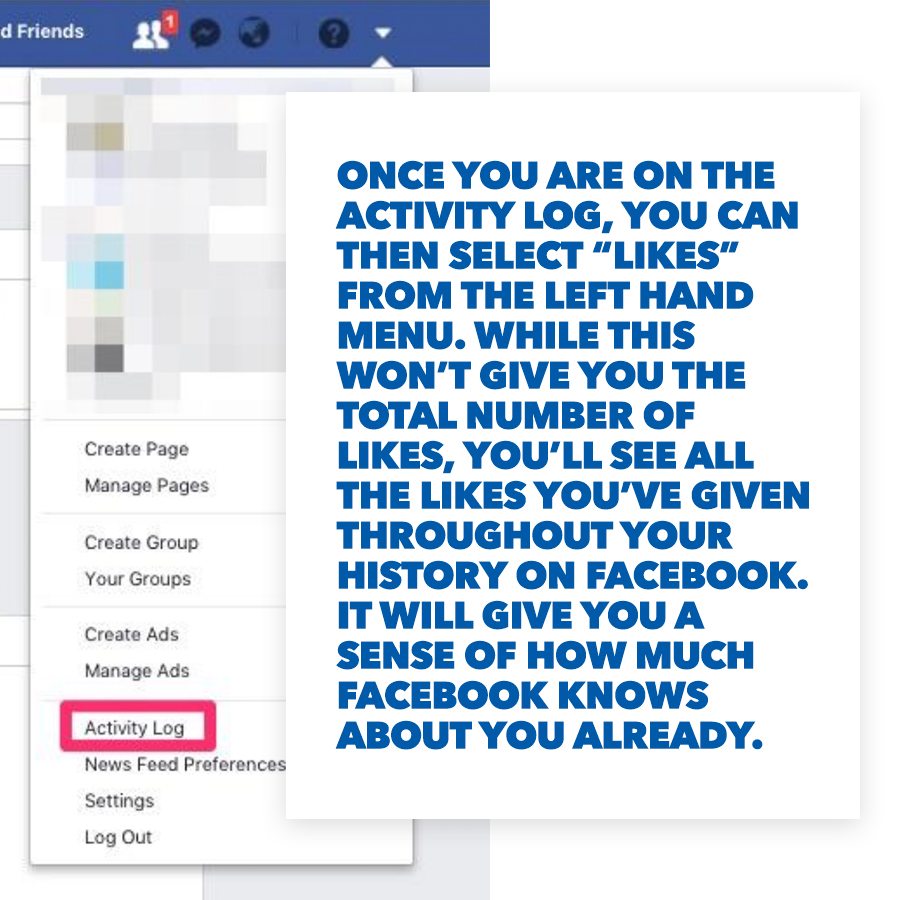 Once you are in the activity log, you can then select "Likes" from the left-hand menu. While this won't give you the total number of likes, you'll see all the likes you've given throughout your history on Facebook. It will give you a sense of how much Facebook knows about you already.
The information they have on you isn't just limited to a database of attributes either.
In December 2017, Facebook announced that it had allowed its face-recognition algorithm to notify you if friends and others had posted pictures of you even without you being tagged. What this reveals is that Facebook is keeping a database of you, and that its facial recognition algorithm is so reliable that it believes it can recognise you in pictures automatically.
Tracking Your browsing Behaviour
When you are browsing a website with a Facebook like button on it, or one that has installed Facebook's browser cookie, called "The Facebook Pixel", the data from your browsing session will get fed back to Facebook. This data is used to infer information about you in order to serve you more targeted content.
While this sort of data gathering isn't limited to Facebook (many sites do this), Facebook has the unique ability to pair this data up with all the other information it has about you. This information is added to their existing profile of you so that it has a better understanding of who you are, what you like, what you believe and even what you feel.
Prior to 2016, Facebook used to only log the off-Facebook activity of Facebook users. That has now changed to the point where they are even tracking non-Facebook users.
So, if you went to an online shoe store and considered a particular shoe for a period of time, Facebook could use that information to target you with an ad for that exact same shoe (if the advertiser knew how to set it up that way), or at the very least, other shoe ads.
You can tell if a site has the Facebook pixel installed on it by installing a Chrome plugin called the Facebook Pixel Helper.
This plugin is made for developers; however, it is easy for anyone to check to see if that page you are browsing has a valid Facebook Pixel on it. The plugin, when activated, will give a green signal when clicked on if the pixel loaded successfully on the page in the current browser window.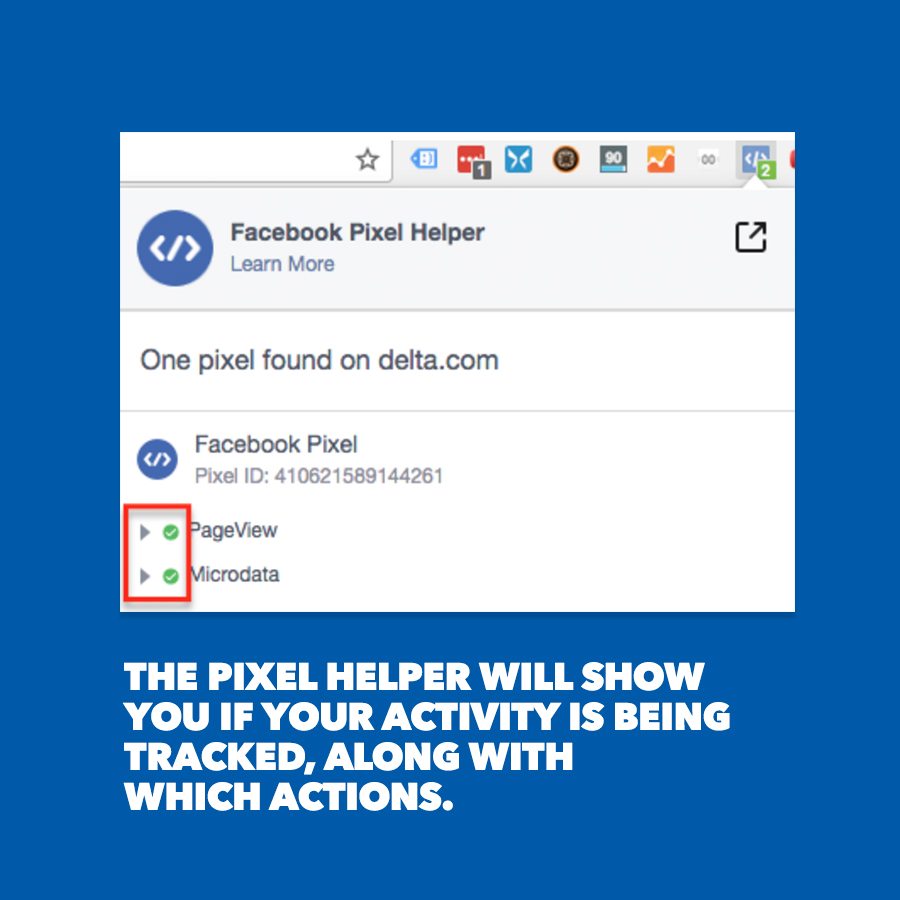 If that's the case then you know your activity is being tracked.
Tracking Your activity On Facebook's Properties (including Instagram and WhatsApp)
Besides facebook.com, Facebook Inc. owns Instagram and the messaging service WhatsApp.
When they acquired both companies, they made a change to the privacy policy of each company to enable sharing of user data with the parent company.
This was a particularly controversial move for WhatsApp because it had built its company prior to the purchase by Facebook on a privacy policy that read:
Respect for your privacy is coded into our DNA, and we built WhatsApp around the goal of knowing as little about you as possible.
They re-iterated this shortly after the purchase by Facebook.
That however changed a period later. While there was a temporary public relations mess to deal with, the situation is that Facebook now has access to WhatsApp's user data, including the phone number associated with the WhatsApp account. Facebook can use this information with their other data collection methods.
Given it paid $19 billion for WhatsApp in 2014, when it had lost $138 million in 2013, Facebook clearly saw the acquisition as a strategic fit, rather than an addition of profit to its bottom line.
While no messages, photos or account information is shared according to the new policy, it may share information like device used, online status, usage and log information to track your messaging habits.
Tracking The Apps On Your Mobile Phone
When you use the Facebook app on your phone, there are bits of data that Facebook tracks about you. Depending on the privacy settings you allow the app, it can track your location.
This means Facebook will know specific location data about you, like the spots you like visiting, the individual stores you walk into, where you live, work and much more.
They can track photos you've taken and where you've taken them.
Here's an example of how this information was used during an experiment.
Facebook revealed that for a period of time it was running an experiment using people's location details to suggest new friends for them.
In other words, if it found you were at a location at the same time as other people that you weren't connected to, these people could come up in your list of suggested friends. After facing a backlash for this, Facebook came out and stated that it no longer uses location data to suggest people you may know – that this was just an experiment.
That doesn't mean it doesn't use location data for other things.
There have been suspicions that Facebook used to read your phone's text messages (treating links there as likes) and use your phone's mic to listen to conversations to suggest relevant content for your newsfeed.
However, there has been no proof of either.
In fact, Facebook responded to rumors about listening, using your phone's mic directly and flatly denied them.
What is true is that it collects data on devices you use to interact with Facebook's properties. Things like the device you use, the operating system, the hardware version, battery and signal strength, language, time zone, your phone number and IP address can all be tracked.
Tracking Via Offline Data Brokers That Know Your Income, Net Worth, Home Ownership, Relationship Status and A Lot More.
Have you ever applied for a credit card or a loan? If so, all of this data is stored somewhere by third-party data brokers. These data brokers are in the business of selling this information to interested parties.
Facebook is one such party.
So, if you have a Facebook account, and never made a post or liked anything, Facebook can still build a fairly accurate profile of you by leveraging their partnerships with these offline third-party Data brokers.
All it has to do is match up the existing identifying information it has about you with the information held by the data brokers.
Once there is a match, it can add in all of the stored third-party data to your profile.
The data brokers collect very personal transactional as well as behavioural data.
For example, these data companies have a good idea of the type of shopper you are through your participation in shopping reward programs.
They also have a good idea about your housing status, and financial information (income, net worth) because of their own partnerships with financial institutions.
These companies combine your publicly available data (addresses, phone number), with other purchased data from household surveys, merchant information and cookie data from users' online activities.
Here's a list of the data providers Facebook uses by country (as provided by Facebook) and links to their privacy policy where you'll find information should you want to opt-out of being included in their datasets:
Australia
Acxiom: http://www.acxiom.com.au/about-acxiom/privacy/australia-privacy-policy
Experian: http://www.experian.com.au/legal/optout.html
Greater Data: http://greaterdata.com.au/unsubscribe/
Quantium: https://www.quantium.com/opt-out/facebook
Brazil
Experian: https://marketing.serasaexperian.com.br/descadastro/
France
Acxiom: http://www.acxiom.fr/a-propos-d-acxiom/information-sur-le-depot-de-cookie/
Germany
<>Acxiom: http://acxiom.de/datenschutz/
Japan
Acxiom: https://optout-jp.acxiomapac.com/opt-out/
CCC: http://tsite.jp/r/service/fbopt/fb_optout.html
United Kingdom
Acxiom: http://www.acxiom.co.uk/about-acxiom/privacy/uk-privacy-policy/
Experian: http://www.experian.com/privacy/opting_out.html
Oracle Data Cloud: http://eu.datalogix.com/uk-privacy/
United States
Acxiom: https://isapps.acxiom.com/optout/optout.aspx
Epsilon: https://www.epsilon.com/en_US/consumer-information/consumer-preference-center.html
Experian: http://www.experian.com/privacy/opting_out.html
Oracle Data Cloud: https://www.datalogix.com/privacy/
TransUnion: https://www.transunion.com/customer-support/marketing-offers-opt-out
WPP: https://www.i-behaviour.com/opt-out/
Facebook has announced, among its review of its user protection policy following the revelation of data breaches from third party companies, that it plans to wind down the data provided by these third parties for direct advertising on Facebook by the end of 2018.
Click here to share this article
What Does Facebook Do With All That Data
Once Facebook collects all that information about you, it goes to work to compile a rich profile of you. It supplements its information gathering with advanced mathematical algorithms to determine your psychographic profile.
The algorithm that is used is highly sophisticated and relies on analysing each activity in the context of your information and previous activity using sentiment analysis tools to work out whether you have positive or negative reactions to certain newsfeed items.
It then compiles this data over time and compares your profile to others just like you, who have also shown similar types of activities.
Then it can use that information to fill in any blanks about you. With that done, its profile of you is much richer than what you would think from just the information you've given it or that it has collected about you.
At this point, your profile consists of enough data points to deduce your political preference, religion, race, relationship status, locations you frequent, individual stores you walk into, even your sexuality… whether you've ever revealed them to Facebook or not
It can then use all this information about you to filter out the sort of content you see on your newsfeed – including which of your Friends' posts, which news items and which ads you see. The one relief is that …
Your Data Is Anonymised Before Being Made Available
In other words, while your information is made available to advertisers, your name and any identifying information are removed.
This level of sophistication is the reason why Facebook came under fire during the US elections in 2016.
Critics suggested that Facebook provided the perfect mechanism for biased, fake news to be successfully targeted precisely to the most captive audiences.
By doing this, political operatives were allegedly able to mobilise people to vote based on made up stories.
This same level of power is available to any advertiser on Facebook (if they know what they are doing), regardless of what product they are selling.
The information given to advertisers is a direct result of the data mining Facebook does on its users. The more data it has on its users, the more data points it can provide its advertisers.
As a user, understanding all the factors an advertiser can choose from provides an insight into what Facebook knows about you. Here is that list – covering both demographic and psychographic characteristics that Facebook makes available to its advertisers:
Besides these characteristics, Facebook provides its advertising partners with a number of ways to target you based on your interaction with the advertiser and their web properties.
If you are sick of seeing the same ad following you around the internet – including on your Facebook feed – it is because you have fallen into one of these other targeting methods (perhaps without your knowledge):
The Precise Ways That Facebook Allows Its Advertisers To Target You
Advertisers can combine any of the psychographic or demographic characteristics listed above with the targeting methods described below to choose even more narrow, hyper-targeted audience segments that are pre-disposed to take the action the advertiser wants them to take.
The audience segments can be determined by:
Activity on the advertiser's website: the advertiser, through Facebook's pixel would track when you visit their site or particular pages on their site in order to show you ads related to the content you looked at
Any personal information you have given to advertisers in the past (even offline): Advertisers can upload your email, phone, address and other personally identifying information into Facebook, and allow Facebook to match the advertiser's customer list with Facebook's user list to see if there is a match. If there is a match, then and audience is created and these people can be targeted.
Any activity on the advertiser's Facebook page or posts: If you've visited, liked, commented or clicked a link on an advertisers' Facebook page, you can be selected to be part of an audience that is shown related advertising.
Watching the advertisers' videos on Facebook: If you've watched even the first 3 seconds of an advertiser's video, you can be selected into an audience to be later advertised.
Actions on apps owned by advertisers: If you install an app or conduct certain tracked activities, you can be put on a list to be further shown ads to by the advertiser via Facebook.
Having friends that have liked a particular advertiser's page: An advertiser can select an audience of people who have friends that have liked their page. So even if it's not you who has liked the page, but a friend, you can see an ad directed at you.
That's not all. Advertisers can take it to the next level by…
Cloning Ideal Audience Attributes To Find Others With A Similar Profile To You
For the first five options above, Advertisers can clone the audiences created through Facebook's "Look-a-like audiences' feature.
Once an audience has been created, the major attributes (based on demographic and psychographic analysis) of that group is conducted by Facebook.
It will then search all of Facebook's population for people that match those same attributes – and then make an audience out of them for the advertiser to target.
In this way, advertisers can find other Facebook users who have not yet interacted with them but have a similar profile to those who have interacted with them in the past.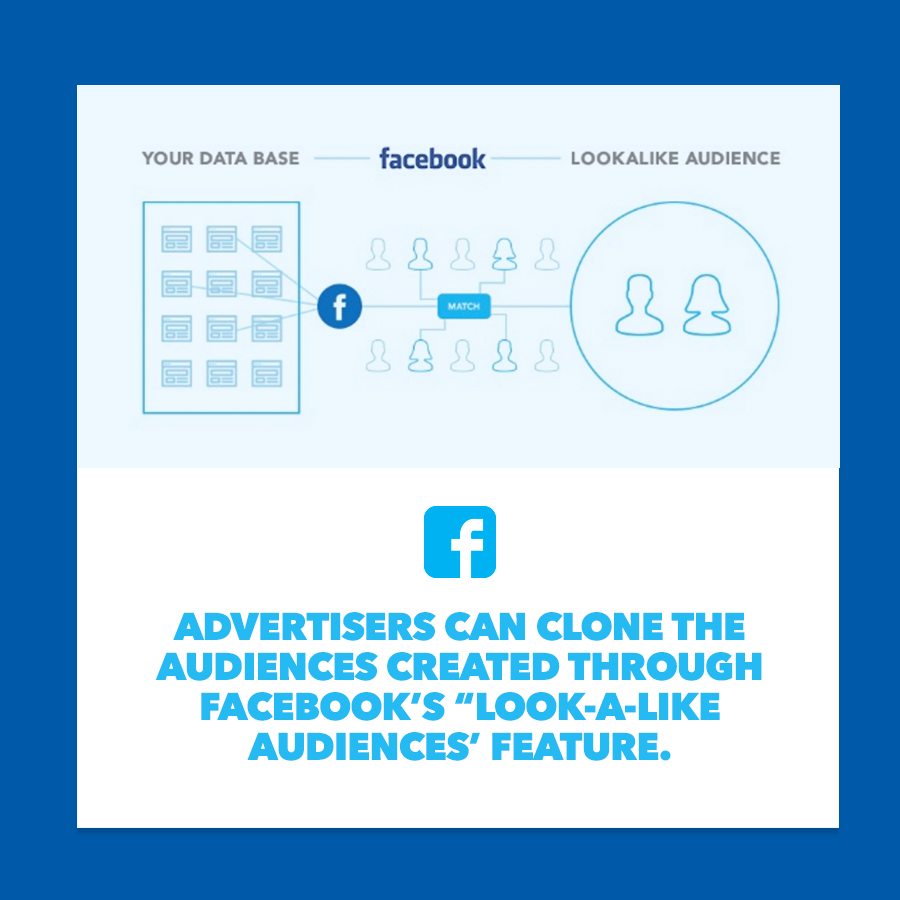 Advertisers can get precise in their targeting by combining one or many of the options above with the rich demographic and psychographic data Facebook has collected on you.
Click here to share this article
While Advertisers have a lot of power in Facebook, they are just one part of the ecosystem.
Some of Facebook's own activities and experiments have come under fire for pushing the boundaries that protect the privacy of its users.
So that you build your understanding of all the parts of the Facebook universe, let's look at some experiments and investments by Facebook from the past and take a look into the future to see the direction that the company is heading in.
Experiments & Investments By Facebook That Reveal How Far Facebook Is Willing To Push The Boundaries Relating To User Privacy
The following items give clues about how far Facebook is willing to go to push the boundaries of what it deems acceptable when it comes to protecting the privacy of its population.
Experiment Run To Modify Emotions Of Its Users By Altering Their Newsfeed
Facebook conducted an experiment (in conjunction with Cornell and the University of California) in 2012 to see if it could alter the moods of its users by altering the content on the newsfeed. They chose 689,003 users on which to run this experiment.
Here's how they approached the experiment:
A person's newsfeed contains a combination of content including posts from their Facebook friends and companies they've liked.
This experiment involved altering the exposure of the user to positive and negative content.
One test involved reducing the number of "positive emotional content", and they found that this resulted in the user themselves making fewer positive posts. Another test involved "reducing negative emotional content".
When this happened, they found that the user made fewer negative posts.
In other words, it was possible to use Facebook's newsfeed to alter the emotions of users!
Its unclear how much of this result Facebook has used in refining its newsfeed content selection algorithm, however, as will be discussed below, Facebook is constantly trying to figure out more ways to have its users be more engaged with its platform, so it would not be surprising if the newsfeeds were altered to encourage responses.
Leaked Document Exposed That Facebook Offered Advertisers The Opportunity To Target Vulnerable Teenagers
The Australian Newspaper broke a story that revealed that Facebook had offered advertisers the option of targeting 6.4million young users, as young as 14, during periods when they feel 'stressed', 'defeated', 'overwhelmed, 'anxious', 'stupid', 'silly', 'useless' and like a 'failure'.
When the newspaper contacted Facebook about the document, Facebook admitted wrongdoing, agreeing that it was wrong to target young children in this way.
While this experiment shows Facebook in a bad light, it should be noted that the company does do more to try and protect the privacy of minors compared to its older users. By default, Facebook turns off location sharing and gives warnings to minors before they make posts public.
We'll address below how this experiment may have happened without the consent of senior management in the company.
Facebook Is Working on a Direct Brain Interface To Allow Communication Via Mind Reading
While this technology is years away, Mark Zuckerberg revealed at Facebook's Developers Conference in April 2017 that Facebook was working on a way to communicate directly with the mind without using speech.
While the technology wouldn't be used to articulate people's random thoughts, it would be used at the point when people have decided they have a coherent enough thought that they'd like to express it via speech.
While it will take some time to see exactly what this will mean for communication, there is a fear that using such technology may result in people revealing more than they want, and raises all sorts of questions around what sort of editing would be available.
The technology definitely will be transformative for those with speech impairment and other disabilities that make communication via speech difficult or impossible. Privacy issues though remain to be worked through when the technology is eventually released.
If you are interested in learning more about this, here is head of Facebook's Building 8 group, who is in charge of building this technology, Regina Dugan's presentation at that conference:
Facebook Has Applied For A Patent To Augment Your Messages Based On Your Emotions
Facebook applies for over 1,000 patents a year. It should be noted that just because they apply for one doesn't mean they will actually use it.
However, examining what they have applied for, gives clues as to what the company is thinking.
This particular patent aims to predict your emotion as you are typing a message and then suggest formats within the messaging app in line with that.
They are aiming to predict your emotion based on what you are typing (the words), the typing speed you are using, even how much pressure you put on the keypad as you type.
While we already get emoji suggestions as we type on smartphones, having the app predict our emotions and suggest changes to the text, capitalisations and so on, would be taking it one step further and raise concerns to the degree that private messages are being monitored and read.
So what do the items above tell us about Facebook's views on their user's privacy?
It tells us that Facebook is on a quest to understand how human beings think, feel and communicate with each other. In that process, it is going to cross some boundaries.
The evidence seems to indicate it is fine with that cost in order to further their vision. We'll expand on its vision and why it is willing to get close to and even cross certain boundaries further below.
First though, let's show you what Facebook knows about you in particular.
There is a way you can find out – its right in your account.
What Facebook Believes About You
Based on all of the information they have, Facebook's profile of you lives in your Facebook Ad Preferences page.
You can see all the categories Facebook believes you are interested in or have an affinity to.
If you find that Facebook has something wrong about you, hover over the tile that you believe is incorrect, and you'll be able to click the "X" button to remove it from your list: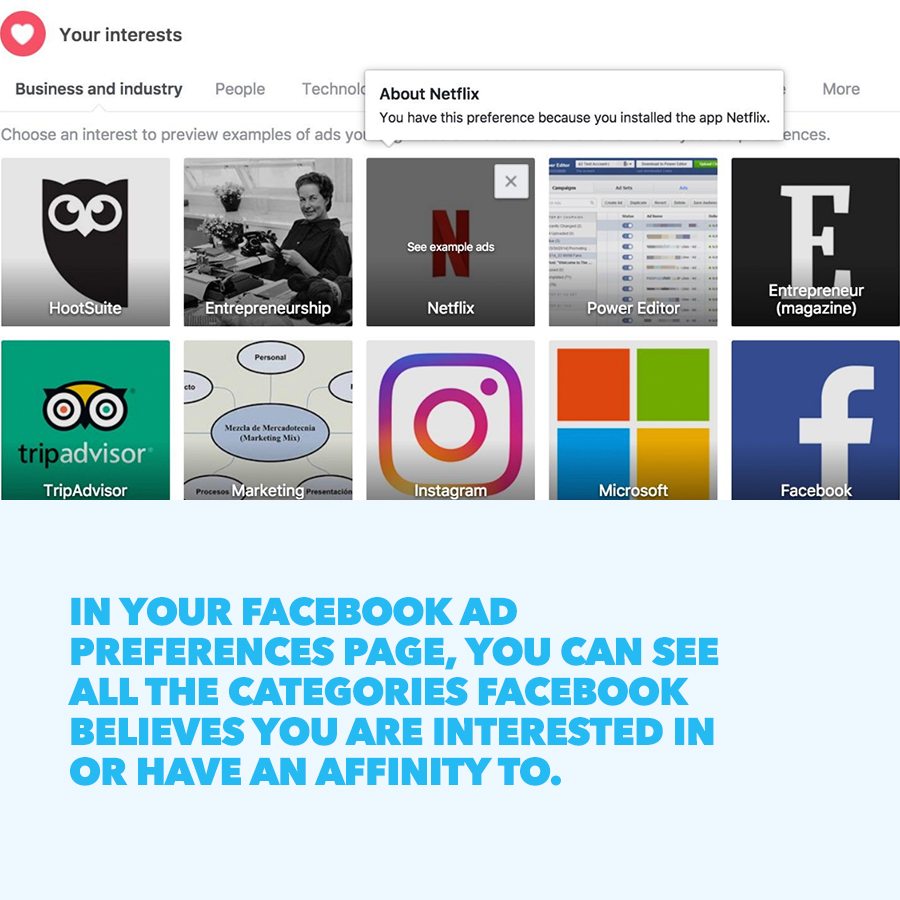 In the sections below you can also see information on the 'Advertisers you've interacted with" including those:
With your contact info
Whose websites or app you've used
Whose ads you've clicked
You can also remove this information by hovering over the tile and clicking the "X" on it like the example above.
If you'd like to get an idea of how Facebook collects this information as you interact on Facebook, you can install a chrome extension called "Data Selfie".
This is an independent app to Facebook, however, tries to replicate how Facebook tracks your activity. Once you've installed it on Chrome, it will go to work whenever you are on the Facebook Platform, taking note of all your activities – what you write, what you share, what you like and so on.
Then it starts to compile a personality profile of you, which you can ask it to reveal. It is safe because all this information about you is stored locally on your own computer, and not shared with any outside institution. You can review your profile, export it or delete it altogether whenever you want. Here's a video on how it works:
Click here to share this article
So now that you know how to keep tabs of what Facebook believes about you and your interests, how can you control how it uses that information? Let's find out.
What Control You Have Over Your Privacy On Facebook
There are some things you can do to protect the information collected and used by Facebook on you, however there are limitations.
On your phone app, you can disable sharing of locations data with the Facebook, Instagram and WhatsApp apps. You can follow the steps here to find where your location settings are. The instructions on that page guide you to turn "on" the settings, just turn them "off" instead to prevent Facebook from tracking you.
To opt out of having your information tracked by the third-party data companies Facebook has partnerships with, you will need to read the privacy policy of each data company in your country to see how you can opt out of their service.
Most of them involving writing in to ask for removal. You can click on the link of each company in your country and then look for the information on opting out on the third party data's site.
While you can't opt out of Facebook tracking your activity while you use Facebook, you can tell Facebook that you don't want advertising to be based on their data of you. That doesn't mean you won't see ads – you just won't see ads based on their profile of you. To do that:
The other privacy sections on Facebook refer to the information you share publicly on your newsfeed when you create posts. To find the level you are comfortable with these items, go through this article on Techlicious which takes you through those types of settings in detail.
The settings above can be expected to change as Facebook itself evolves and new options and technology are introduced. Therefore, you not only want to keep an eye on all of the elements above, you also want to understand what direction Facebook is heading in.
Why Facebook Will Most Probably Continue To Push Privacy Boundaries
If you've read each section above, you've got a good idea of the lay of the land when it comes to Facebook's current view on user privacy.
In summary, it is transparent about the fact that it tries to understand as much about you as possible so it can customise your experience on the platform to your preferences.
This means that it is going to overstep some areas, and it will make some people feel uncomfortable.
Let's see why Facebook would continue to do this, even though doing so generates quite a bit of negative press from time to time.
Facebook's new mission, as communicated in early 2017 is to "Give people the power to build community and bring the world closer together." Previous to that, the focus was on "connecting friends and family".
In either case, for Facebook to be the platform that connects friends, families or communities they have to know what brings people together, what keeps them engaged, so that they spend more time on Facebook, and to do that it has to continue to get better at understanding what interests and motivates people.
To add to all that, Facebook's revenue comes from selling advertising to its user base. It is a public company whose financials are scrutinised by analysts, investors, and shareholders. While its mission is altruistic, it does have financial obligations simply because it is a public company.
Its share of revenue can only increase if more advertisers use its platform and spend more money on it. Advertisers will only do this if they have a greater chance to make profits off the advertising. This is more likely if there are:
more users advertisers can target; and
more granular information about those users made available to advertisers in order to segment their audiences precisely.
So if you look at all of this, you can predict that Facebook will continue to do what it can to try and understand their user base and customise its platform to them. This will ensure more people want to continue to use the platform, get a positive experience out of it, and see more relevant ads.
Understanding the characteristics of its user base also allows it to provide more ammunition to advertisers to target the right audience. Therefore, it is in Facebook's interests both in its mission and in terms of its financial goals to get as much information on its users as possible.
Past public statements from Mark Zuckerberg only back this up.
Inherent in Facebook's culture is the idea of running tests to find out what users respond to – again to better understand them and to further customise the experience for them.
Mark Zuckerberg in an interview with Reid Hoffman, on the podcast "Masters Of Scale" explained that Facebook's fast growth, in the early stages of the company, was made possible by the hacker-inspired mantra he and his team lived by to: "move fast and break things".
This mantra allowed the company to test multiple variables, and conduct experiments on Facebook to learn how its users interacted with the site. The idea as that they quicker they learned, the more they could modify the platform to maximise the probability people continued coming back and became more engaged for longer periods of time.
In that podcast, Zuckerberg told Hoffman, "I think the strategy of Facebook is to learn as quickly as possible what our community wants us to do and that requires a culture that encourages people to want to try things, and test things and fail."
Not only did Mark Zuckerberg want his team to move fast, he implored them to – even dared them to move so fast and test so many things that may even break the Facebook platform so that they could learn about what worked, what made the platform more engaging, and what didn't.
Even now, when Facebook has over close to 2 billion monthly users, Zuckerberg revealed that on any one given day, there could be 10,000 separate versions of Facebook that are being run across its user base.
The interesting thing is that these tests can be run by engineers inside Facebook with no oversight from any management, as Zuckerberg explains in the podcast…
"Any engineer at the company can basically decide that they want to test something. There are some rules on sensitive things, but in general, an engineer can test something, and they can launch a version of Facebook not to the whole community, but maybe to 10,000 people or 50,000 people – whatever is necessary to get a good test of an experience. And then, they get a readout of how that affected all of the different metrics that we care about. How were people connecting? How were people sharing? Do people have more friends in this version? Of course, business metrics, like how does this cost the efficiency of running the service, how much revenue are we making?"

– Mark Zuckerburg
He continues, "Giving people the tools to be able to go get the data, without having to argue whether their idea's good through layers of management before testing something, frees people up to move quicker. If it doesn't work, then we add that to our documentation of all the lessons that we've learned over time. If it does work, then we can incorporate those small changes into the base of what Facebook is – that now everyone else who is trying to build an improvement, that's the new baseline that they need to get against".
So every single day, Facebook is constantly trying to test different things in order to get you more engaged in its platform – to like, share, befriend people – and to click on the ads.
While doing testing on the Facebook platform can seem harmless to you as a user, it can have dramatic consequences. As shown by that experiment conducted with Cornell and the University of California, changes to the newsfeed can even alter people's emotions. Altering emotions can impact people's behaviour, and so the consequences could be serious.
The lack of oversight by management for such experiments may also explain why someone from Facebook thought it ok to allow advertisers to target vulnerable teenagers, as revealed above, only for the management to apologise when revealed to them.
Statements From Previous Facebook Employees Reveal Privacy Protection Has Been A Secondary Issue
In an op-ed piece in the New York Times, Sandy Parakilas, a former employee in charge of Facebook's push to fix privacy issues on its developer's platform blasted Facebook on how serious the company really was about the protection of its users' privacy.
Here are a couple of quotes from that piece:
On her observation of Facebook's general attitude to user privacy
"What I saw from the inside was a company that prioritised data collection from its users over protecting them from abuse."
On incentives for Facebook to make privacy protection a priority:
"The more data it has on offer, the more value it creates for advertisers. That means it has no incentive to police the collection or use of that data — except when negative press or regulators are involved. Facebook is free to do almost whatever it wants with your personal information, and has no reason to put safeguards in place."
On the reaction from inside the company when dealing with potential abuses of privacy
"..But when I was at Facebook, the typical reaction I recall looked like this: try to put any negative press coverage to bed as quickly as possible, with no sincere efforts to put safeguards in place or to identify and stop abusive developers. When I proposed a deeper audit of developers' use of Facebook's data, one executive asked me, "Do you really want to see what you'll find?"
The message was clear: The company just wanted negative stories to stop. It didn't really care how the data was used."
and
"..But apparently Facebook took the same approach to this investigation as the one I observed during my tenure: react only when the press or regulators make something an issue, and avoid any changes that would hurt the business of collecting and selling data."
It could be that the attitude inside Facebook has changed since this person left the company, but the lack of transparency means that the rest of the world is none-the-wiser for any shifts in attitude from inside Facebook.
You can also get a good idea about Facebook's position on user privacy form its political dealings.
Facebook, along with Google, eBay and Amazon are the founding members of the lobby group "Internet Association".
This lobby group made the news early in 2017 by its opposition to a proposed bill that would require broadband providers and websites to obtain users' opt-in consent before they use the Web browsing history and application usage history for advertising and other purposes, including sharing that information with third parties.
The lobby group opposes privacy regulations at a federal level and instead wants to maintain the status quo.
Currently what happens is that the online advertising industry provides a choice to users to opt-out of interest-based advertising using self-regulation. Advertisers can be reprimanded by the Federal Trade Commission if they break their own privacy policies only.
The lobby group argues that if privacy is regulated Federally, it would slow down innovation and make it harder for users to enjoy a more personalised experience, thereby having a poor experience on the web.
So, every indication points to Facebook continuing to mine any data it can access to understand its users better and better. So, where does that leave you?
What About The Impact Of The Recent Data Breaches?
The focus on how Facebook's platform and its users' data were used during the 2016 US elections has intensified in the backdrop of a divisive political climate. So much so that Mark Zuckerberg has been called to provide testimony at congressional hearings into how the company manages its users' data.
As the Cambridge Analytica data mining operation became public, Facebook has faced a backlash from its users and advertisers. Cambridge Analytica bought the data off a professor from Cambridge University, who harvested the data from Facebook using a quiz.
While media reports state that this was a data breach, it really wasn't, as what the professor did to collect the data was all in line with Facebook's policies at the time.
The fact that the professor did nothing against the terms of service has been the most alarming part of the whole episode.
All of this negative publicity then started to affect its share price.
As a result of this pressure, the statements and actions coming out of Facebook seem to be a slight departure from its response to previous privacy breaches.
Firstly, it has made its privacy settings for users easier to find and manage.
Secondly, it has decided to come clean and be more transparent about what has happened and what they intend to do about it.
Senior executives have publicly admitted to being caught off guard, and unprepared about how third parties could manipulate its platform and the access it allowed. Internally, Facebook has started an audit of how their users' data may have been abused in the past, and have publicly said that they expect to find more cases like Cambridge Analytica.
Thirdly, it has also limited developers' data access via third-party apps as well as a range of other measures to help tighten privacy and prevent a repeat of the Cambridge Analytica scenario.
Cynics will point out that Facebook is only taking action after a clear hit to its bottom line, under a mountain of negative press. In the long term questions still remain about how important it truly regards the protection of its users' privacy.
The fact remains that its revenue largely depends on the packaging and selling of information about its users. So while in the short run it may make changes to regain public trust, it remains to be seen if this will be long-lasting, especially when this issue is out of the news cycle.
What Your Options Realistically Are
It is clear that Facebook will always be incentivised to push the boundaries of data protection of its users because its revenue depends on it.
That means is that you've got to decide how comfortable you are with that.
Most people use Facebook oblivious to the consequences from a privacy point of view. It's a very effective platform and is a fantastic way to keep in touch with friends and family, and even get your news.
However, you now know the intangible costs of using it. If you are comfortable with that price, then continue using and enjoying it.
If not, then the only way to protect your privacy is to close your account for good.
While that sounds drastic, it is realistically the only thing you can do if you are not comfortable with how the whole situation works. At least you'll now be making an informed decision. To help your friends and family do the same, share this article with them…