The topic of Google Ads cost can be a head-scratcher for many Australian business owners curious about how it works, its costs, and the process of setting a budget for such a service.
If you've worked with a search agency before, you might even have questioned whether you truly got the best results you could have from your investment in Google Ads.
Don't worry; we hear you.  
Investing in Google Ads should be a concern if you're not familiar with how Google advertising works and the costs associated with them. 
Google Ads pricing can vary based on competition, keywords, ad placement, and market trends.
It can benefit your business if you understand how the cost is calculated and the factors influencing the pricing, including optimising campaigns to get the best ROI.
You may have experienced working with a search agency that's only after one thing: taking your business' advertising dollars with no results to show for it. 
But here's the truth: Google Ads can work! And we know how to use Google Ads to grow businesses. 
We work with clients daily to help them get the leads and sales they are after to ensure every ad dollar they spend is worth it. 
Here's what Daniel Hersee, agency owner of Black Lion Digital, had to say about our services:
"Unbeatable results and customer service. I have a social media agency and I have used Digital Spotlight for over 10 clients and they have all had exceptional results for SEO and Google Ads. There isn't anything this incredible team doesn't know about Search Engine Optimisation or anything Search Marketing. Hire them before your competitor does!"
~ Daniel Hersee, Black Lion Digital Pty Ltd
Digital Spotlight understands the value of transparency with clients. Before you sign up and decide on your Google Ads budget, we will provide an in-depth health check and look at your business' past performance. 
What Is
Google Ads
?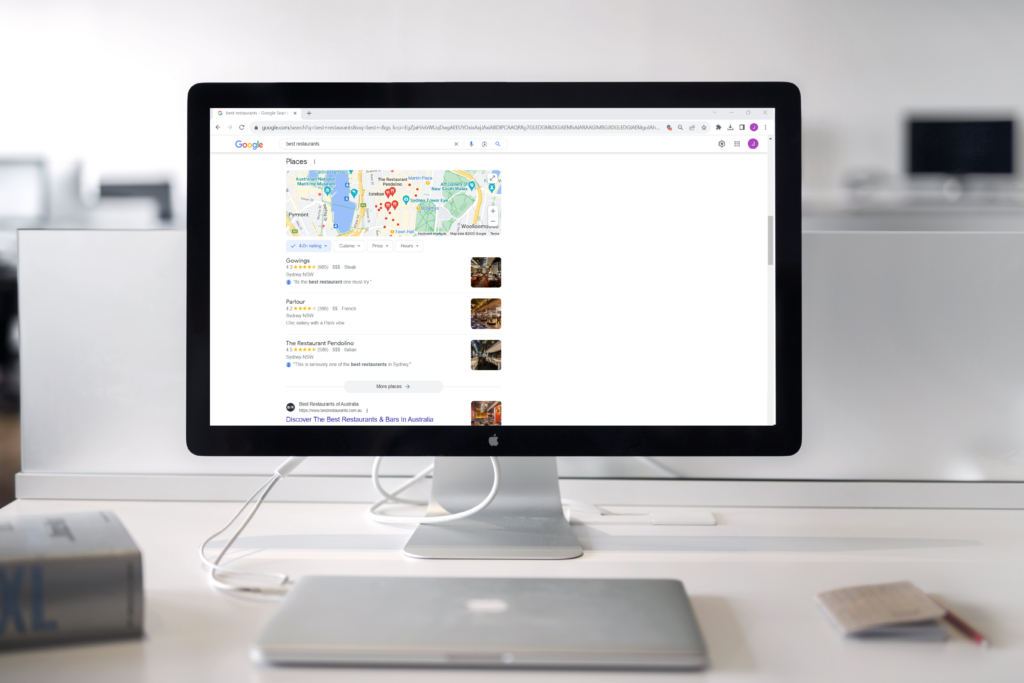 Google Ads (formerly AdWords) is where businesses or other advertisers like you can promote your business through Google's search engine and advertising network and reach potential customers online.
The platform lets you choose specific keywords, demographics, and interests to display your ads. It's a potent tool to boost visibility and drive potential customers to your business' offerings.
How Do Google Ads Work?
Google Ads is a platform that lets you create ad campaigns and display them on Google's search engine results pages (SERPs). With its pay-per-click (PPC) model, you only pay whenever someone clicks your ad.
Here's what Joseph Khoury of Tree and Garden Solutions had to say about our Google Ads service:
"I can't believe how well PPC works. We can't keep up. Many thanks for everything you & your team are doing." 
~ Joseph Khoury, Tree and Garden Solutions
Understanding Google Ads Auction
Displaying ads on Google Ads is like an auction; you and other advertisers contend for keywords your target audience will likely search for.
This auction determines where your ad's placement will be across Google's extensive network of placement options. But while the highest bidder always wins in a traditional auction, it isn't true with Google.
Yes, your bid does play a role, but other factors determine which ads appear and in what order. These factors include the context of the user's search, the ad's format, quality, and relevance.
In other words, if you manage it properly, the Google Ads auction system gives you a fair shot at displaying your ads at a higher ranking on SERPs without breaking the bank.
Trying Google Ads With a Small Investment
Small Australian businesses typically spend around $3,000 to $7,000 monthly on Google Ads. Despite this, you can test the waters using a smaller budget.
You can experiment with the platform and see how it performs with a budget as low as $50 daily. Testing allows you to try different ad formats, target audiences, and keywords without a significant financial investment.
Here's what Daren of Zeroharm had to say about his experience with our Google Ads service:
"We have too much work booked and are at full capacity. We are adding staff and resources… Thanks again and I would highly recommend you guys. You have been brilliant!"
~Daren, Zeroharm l Fire Protection l Electrical Test and Tag l Pest Management."
Running a Serious Google Ads Campaign
You can run a more effective advertising campaign once you're ready to level up your Google advertising game.
A serious campaign generally involves:
Clear campaign objectives

Conversion tracking

Allocating a larger budget

Effective campaign budget management

Targeting specific and

effective

keywords or

audiences

.

Compelling ad copy

Ad split testing and optimisation

Comprehensive data analysis

Closely monitoring its performance
It's a good thing you don't have to do this alone.
Our seasoned engineers and mathematicians can help optimise your digital marketing efforts using advanced statistical analysis.
We also offer complete transparency. Not only will you own the Google Ads account, but you'll also pay Google directly. This way, you know what's happening and how much you spend.
Why Advertise on
Google Ads
?
Facebook, Twitter, and Bing Ads are high-performance advertising platforms. However, Google Ads is one of the largest and most dominant online advertising media, and here's why:
Budget Control
One of the upsides of Google Ads is that it gives you complete authority over your budget. You can stay within your budget with options to set daily and monthly limits.
Scalability
Whether you're a notable player or a small business, Google Ads offers scalability. It lets you start small and gradually increase your ad budget to match your business's growth.
Analytics
With Google Ads, you can access robust analytics tools that measure metrics like click-through rate (CTR), conversion rates, cost per lead, number of leads or sales, revenue & return on investment (ROI), allowing you to track your ads performance and identify areas for improvement.
Here's what PropertyMe CMO, Iris Lever, had to say about our top-notch service:
"We have been working with the team at Digital Spotlight for over five years now. Their expertise, timeliness, and attention to detail have been instrumental to the success of our digital marketing… It has been an absolute pleasure to work with the Digital Spotlight team over the years and I would highly recommend their digital services."
~ Iris Lever, CMO at PropertyMe
Your Cheat Sheet to
Google Ads Pricing
Now that we've discussed the fundamentals of how Google Ads works, let's delve into its pricing structure.
Are Google Ads Worth Paying for?
The answer is a resounding YES, IF you or your agency knows how to manage it properly. 
Google Ads can be a worthwhile investment when done right. This is even more evident if you partner with an agency with direct access to Google's elite support team, the latest tools, and non-public data as we do.
Still, whether Google Ads is worth your hard-earned money depends on several factors, such as business goals, target audience, budget, and target ROI. 
How Does Google Ads Pricing Work?
Google Ads operates on a bidding system where advertisers follow a pay-per-click model.
The cost-per-click (CPC) depends on several factors, including your chosen keyword's competitiveness, your ad's relevance and quality score, and your maximum bid.
What Is the Cost of
Google Ads
?
The cost of Google Ads can fluctuate wildly. But generally, with a PPC model, a business paying $3 per click would spend $300 for 100 clicks. However, a lot goes into calculating the cost of Google Ads.
Discover How Much You Can Advertise On Google With Your Budget
The cost of Google Ads is like buying coffee. You can have a cup at a small cafe in Blacktown for $3, while a fancy latte may cost you $7 at an upscale cafe in Sydney's CBD.
Factors like your budget, business objectives, and goals can influence how much you can advertise with your budget. Fortunately, you can tailor your campaigns to align with your financial situation.
How Much Is Google Ads Monthly?
With an average CPC of $7 to $30, a small business in Australia may spend anywhere from $5,000 to $100,000+ on Google Ads monthly. Again, various factors influence the cost, primarily your monthly budget.
Google Ads Management Cost
Hiring a digital marketing agency can lead to additional costs. But the right agency should more than pay by limiting wasted budget (that you may not even be aware of), not to mention saving time, preventing missed sales opportunities, access to advanced tools and technology and increased profits (if they know how to manage your campaigns correctly). 
Google Ads management fees vary based on the agency and the level of support you need.
An agency's management fee structure can also affect the additional costs you incur. Fee structures include a fixed monthly rate or a percentage of spend or revenue (or some hybrid).
With us, most clients are on a flat fee (with exceptions for enterprise-level budgets, which require a much higher dedicated level of resources). And we manage your campaign through your account, not our Google Ads account.
Google Ads Cost Calculator
Some online calculators estimate how much Google Ads may cost you. They consider your industry, desired ad position, and daily budget. The key word here is estimate.
Talk to us for a more in-depth look at your potential costs.
Our engineers and mathematicians aim to maximise your results for the least spend using advanced statistical analysis and rigorous campaign testing.
How Much Do Smart Campaigns Cost?
Using the same PPC model, Google Smart Campaigns use machine learning to create and target ads for you automatically.
In other words, Google Smart Campaigns only bill you for clicks within your budget – an excellent option to simplify advertising efforts if you're not very sophisticated. 
The downside is that Smart Campaigns limit the visibility you can get from your campaigns. This means an agency that doesn't rely on smart campaigns can almost always outperform an agency or business owner that does. 
No Activation Fee
With Smart Campaigns, you can promote your business and reach potential customers without worrying about activation fees – because there are none. You can jump right in without any upfront costs.
Payment Settings and Payment Methods
When setting up your Google Ads account, you can pick a payment method that best suits your financial circumstances, such as debit cards, credit cards, bank transfers, and online payment platforms, ensuring your ad campaigns run without disruptions.
How to Calculate Your Ads
Budget
Planning your ads budget can help you get the most out of your advertising investment, and here's how you calculate it:
Calculate Your Daily and Monthly Google Ads Cost in Australia Easily
Calculating your Google Ads budget involves considering your business goals, target audience, and desired ad reach. While you can use calculators and tools to crunch the numbers, you can do it manually.
First, you must determine your maximum CPC bid or the highest amount you will pay for each ad click. Next, multiply that number by the clicks you want to receive.
For example, let's use the average CPC in Australia, which is $1.99. If you want 100 clicks daily, your daily Google Ads cost will be $199 ($1.99 x 100 clicks = $199).
To get your monthly Google Ads cost, multiply your daily costs by the number of days in the month. In this case, you must multiply $199 by 30.4 (the average monthly days). The total comes out to $6,049.6 ($199 x 30.4 days = $6,049.6).
How Should You Spend Your Budget?
Now that you've set your budget, let's discuss how to allocate it to maximise your advertising dollars.
Defining a Clear Marketing Objective
Know what you want to achieve before spending money. Is your objective to generate leads or boost sales?
If you want more leads, having a target cost per lead (CPL) in mind ensures you will generate an ROI. If your goal is to boost online e-commerce sales, you should have a target Return On Ad Spend (ROAS) that leaves you a comfortable profit.
Identifying what goals you're trying to achieve with your Google Ads campaign can help you determine how to spend your advertising budget efficiently.
Understanding Current Conversion Rates
To maximise your marketing spend, you need to know how many clicks you need to generate a sale or a lead. You can analyse data from your website or previous campaigns.
 Figuring out the number of clicks that result in customer actions will help you set realistic PPC campaign goals and allow you to adjust your strategy accordingly.
Understanding Customer Average Lifetime Value
Evaluate the lifetime value of your customers: How much do your customers spend on your products or services? How much of your revenue will you spend to get a new customer?
Answering these questions helps you identify the right budget to set for your Google Ads campaigns and prevents overspending from trying to acquire new customers.
Researching Average Cost Per Click
Before starting your Google Ads campaign, it's crucial that you research your industry's average CPC and keywords. 
Advertising costs can differ based on industry. By planning thoroughly, you can gain valuable insights into your competitors and establish practical expectations for your ad spend.
Factors That Impact
Google Ads Pricing
Some agencies will tell you you'll get Y results for an X budget. Unfortunately, it's not that simple (even if you have historical data and extensive analysis has been undertaken as we do for every account).
Several factors influence Google Ads pricing, including the following:
Industry
Different industries have varying levels of competition. Highly competitive industries like real estate and finance tend to have higher average CPCs than less competitive ones.
Customer Life Cycle
Targeting customers at different stages, such as awareness, consideration, or purchase, requires different bidding strategies and budget allocations. 
Awareness-level customer clicks generally cost less, as these ads target a broader audience instead of specific demographics. They also convert at the lowest levels.
Current Trends
You must keep an eye on current market trends and conditions. An abrupt surge in popularity for a particular product or service can cause a spike in the cost of advertising for related keywords.
The Device
The device where your ads will be displayed will affect Google Ads pricing. The reason? User behaviour and competition varies across devices, and you may need different ad formats or targeting options.
The Landing Page
Google prioritises advertisers who create a good user experience. A well-designed and easy-to-use landing page can improve your ranking on the Google Search Network and lower your CPC.
The Auction System
As mentioned, Google Ads uses an auction system to decide who gets to show their ads for a given keyword. Your bid, keyword competition, ad quality, and relevance play a role in this process.
The Location
The geographic location you target in your campaign can impact your ad costs. Highly populated areas like Sydney or Melbourne, which have higher competition levels (but also a lot more business), may use more of your budget at a quicker rate than remote or rural areas. The bigger the population, the more people click on your ads.
The Timing of the Bid
When to run your Google Ads is crucial. Certain days, times, or events may have higher search volumes, affecting your campaign performance and ad costs. 
Campaign Type
Google Ads provides different types of campaigns to suit various advertising needs, such as text ads, display ads, shopping ads, discovery ads, video ads, and app campaigns.
Each type of campaign may have different cost structures and performance metrics. For example, display campaigns use a cost-per-thousand (CPM) model where you pay for every 1,000 times your ad is shown.
How Well You Manage Your Account
Effective account management plays a significant role in optimising your ads and minimising costs. Well-organised campaigns, high-quality ads, and relevant keywords can lower CPC.
Digital Spotlight ensures that your account runs smoothly. If you don't already have a Google Ads account, we'll set one up for you. You'll be the account owner; we'll be the account manager.
Choose The Right Keywords for Your Google Ads to Maximise Your Results
The main factor affecting Google Ads pricing is the keywords you target. Identifying which keywords are relevant in your industry to create a successful and cost-effective Google Ads strategy is vital to minimising costs while maximising results.
We  offer free audits that help determine what keywords to target, saving you thousands of dollars in Google Ads costs. Why do we do that for free? Because we don't think it's fair to quote you until we know we can add value.
Uncover Other Factors That Can Influence Your
Google Ads Costs
and How to Manage Them
There are other factors that can impact Google Ads costs. Understanding and effectively managing these factors can help optimise your campaigns.
Dayparting
Dayparting means adjusting your ads to display during specific times or days of the week, such as when your target audience is active and is more likely to explore your products or services online. 
By focusing your ad spend on times when your ads are more likely to generate clicks and conversions, you can maximise your visibility and get the most out of your budget.
Agency Costs
Bringing on an agency to manage your PPC campaigns can be a smart move to leverage their skills and knowledge. A reputable agency can save you more money than you spend on their fees, which is often the case with us.
Some agencies will charge you based on performance, which means higher costs if your campaigns do well. If you need our Google Ads services, we'll quote you a single fee – that's it. 
Critical Mistakes We See With Poor-Performing
Google Ads Campaigns
While Google Ads can be a cost-efficient way to increase visibility and generate more sales, there are pitfalls you must avoid. 
Here are some critical mistakes you must avoid:
Selecting the Wrong Keywords for Your Ad
Choosing the right keywords is like picking the perfect fishing spot. 
On the other hand, targeting irrelevant or broad keywords wastes your bait (budget) and time. The wrong keywords may not help you catch the fish  (target audience) you want.
Not Selecting Negative Keywords
Negative keywords prevent your ads from appearing where you don't want them to appear. Neglecting to include negative keywords can result in your ads appearing for unrelated searches, draining your ad dollars on clicks that are unlikely to lead to sales.
Failing to Use Google Ads Reports and Tools
You need to leverage Google Ads Reports and Tools. It's a shame if you don't, considering they give you valuable information about your target audience's behaviour, such as keywords they are likely to search for and ads to click on.
With us, you won't have that problem. We communicate – sometimes too much that our clients think it's unusual. We report what we're doing and keep you in the loop.
Tracking the Wrong Types of Conversion Action
While tracking the number of ad clicks on your campaigns can give you an insight into how it's performing, it doesn't paint the whole picture. 
Tracking the proper conversions, such as completed sales or generated leads, helps identify any room for improvement and optimise your campaign for better ROI.
Poor Budget Allocation
Money management is critical in Google Ads. Allocating a budget inefficiently across campaigns and ad groups can lead to insufficient exposure for well-performing ads or overspending on underperforming ones. 
It's crucial to monitor and adjust budget allocations based on performance data continuously.
What Is the Best Budget for
Google Ads
?
Allocating the right amount of funds towards your online advertising campaign can make or break your advertising efforts. Here are some considerations you must remember:
Expected Revenue, Generated from A New Customer
To determine your dollar spend on Google Ads, consider how much you expect to profit from a new customer. This is where determining the customer's lifecycle value comes into play.
The Scope
Think about the size of your target potential customers and who they are. The more customers you intend to reach, the more keywords you'll likely need to target.
Figuring out the scope of your campaign influences the level of competition and the investment you need to reach your target audience effectively.
Conversion Rates
Conversion rates indicate how effectively your ads turn clicks into purchases or inquiries. A low conversion rate suggests you may need to tweak your approach, such as allocating a larger budget to target more relevant keywords for your industry and audience.
How to Boost Conversion and Minimise Cost
Do you want to ride the Google Ads wave while keeping your marketing expenses in check? Let's dive into strategies that can help boost your conversion rates and lower unnecessary costs.
Learn How to Advertise On Google Ads and Save Money at the Same Time
Is it possible to advertise on Google Ads at a lower cost? Yes, it's definitely possible! 
Understanding the platform's features, target options, and ad formats allows you to create ads that resonate with your intended audience.
How do we know? We have an impressive track record of lowering Google Ads costs by 33%, reducing the cost of acquisition by 23%, and improving lead conversion and sale numbers by 83%!
Find Out How Google Determines Your Cost Per Click and How to Optimise It
Have you ever wondered how Google determines the CPC for your ads? Let's demystify the process and explore ways to optimise your CPC. 
Quality Score
Think of quality scores like a school report card for your Google Ads campaign. You raise your quality score by focusing on creating high-quality ads, incorporating relevant keywords, and improving your landing page experience.
The higher your grade, the better chance your ads will rank and catch the eye of your intended customers, which, in turn, saves you money on each click.
Ad Rank
Factors like your bid, ad relevance, expected CTR, and user landing page experience influence Ad rankings. You must optimise these factors to improve your ad rank and achieve a better position while controlling your CPC.
Your ad rank affects where your ads appear in Google's SERPs and how much you pay per click.
Cost Per Click
You can get a lower CPC and a better ROI by continuously monitoring and optimising your campaigns, refining your targeting, and improving your ad quality and relevancy.
Additional Variables in Your Google Ads Costs
Factors like competition, seasonality, and ad positioning can impact the effectiveness of your campaigns and the costs that come with them. 
Adjusting your campaigns based on these variables can help improve your campaign performance and optimise your CPC.
Set Your Budget for
Google Ads
and Get the Most Out of It
Here's where many business owners hit a wall: how to make sense of Google Ads costs, budgeting, and ROI. Let's break it down, shall we?
Set a Budget Cap
Defining a maximum budget that aligns with your business goals and financial capabilities ensures you invest within your means while effectively reaching your target audience.
Spending Limits
Google Ads lets you set daily and monthly budgets, allowing you to manage your ad spending and prevent unexpected costs.
Stay Flexible
Flexibility is crucial in adapting to changing conditions. You can optimise your budget allocations and maximise results by closely monitoring your campaign's performance, reallocating funds to better-performing ads, and exploring new opportunities.
Daily Average Budgets
Determining and setting your average daily budget helps you maintain a steady investment. This approach gives you stability and ensures your ads are consistently displayed without exhausting your ad dollars.
How To Determine Your Average Daily Budget
Understanding your average daily budget is as important as choosing the right wave to catch when surfing in Manly, as it allows you to plan your spending. To do this, divide your monthly budget by the number of days in a month.
Bidding
Strategic bidding is essential in Google advertising. Fortunately, Google allows you to find a bidding approach that best fits your objectives and maximises your budget, such as manual, automated, or a combination of both.
Pay for Results
Yes, Google's PPC model gives you control over your costs, only charging you for clicks. 
Meanwhile, performance-based payment models like CPA (cost per action or acquisition) or return-on-ad-spend (ROAS) allow you to match your spending with what matters most to your business, such as sales.
See How Much Businesses Like Yours Spend on
Google Ads
and How to Improve Your Results
Your Google ad spend can be anywhere from $10,000 to $1 million+ annually. Many factors drive this figure, including your industry.
Professional PPC Management
Increasing your ad spend doesn't always translate to better results. Effective Google Ads campaigns require careful planning, thorough market and keyword research, and ongoing optimisation to maximise your marketing budget.
That's where we come in. Digital Spotlight uses data from over 2,000 client campaigns we've handled to build a model that optimises your advertising dollars and hits your targets.
How
Much Does Google Ads Cost
in Your Industry?
Understanding your industry's average cost of running a Google Ads campaign can help guide your budgeting decisions. Competitive industries typically result in higher costs than less competitive ones.
The average CPC for all industries on Google Ads is $2.69 for search ads and $0.63 for display ads. Expect to pay over $6 per click if you advertise legal or consumer services. Nonprofit groups are lucky, as they can qualify for a Google Grant of up to $10,000 per month to spend on Google Ads (we've helped many nonprofits quality and manage this grant).
Google Ads
Agency
Management
Fees Explained
Do you need help effectively managing your Google Ads campaigns? Hiring a PPC advertising agency may be the solution you need. 
Here's how Google Ads agencies generally charge fees:
Fixed Fee
PPC agencies may charge a flat monthly fee for managing your Google Ads campaigns.
If you work with us, you'll directly pay Google. This way, you understand how much of your money goes into your advertising efforts.
Advantages
Predictable cost:

You know what you're paying monthly, making budgeting easier.

Transparency:

You see what you're paying for, and there are no surprises. 

Flexibility:

Some agencies offer discounts or other incentives for long-term contracts or specific services. 
Digital Spotlight doesn't need lock-in contracts to retain clients; they stay because we deliver results.
Disadvantages
Limited flexibility:

When campaigns require more work than expected, fixed-fee structures can limit an agency's flexibility to dedicate more time

to achieve

results.

If we encounter this with clients, we raise the issue. 

Less incentive for agency performance:

Some agencies may not put in extra effort since there's no incentive. But not us!
In fact, we don't pitch anything until we've talked about what's realistic. We won't ask you to sign up with us until we understand your problems and are sure we can help. 
Percentage of Media Spend
With a percentage of media spend fee structure, a PPC agency charges a portion of your ad spending as their fee. This is usually reserved for enterprise clients whose monthly spending (and hence the effort required) may vary drastically from month to month. 
This approach may be beneficial if your ad spend fluctuates.
Advantages
An incentive for agency performance:

Agencies are more likely to optimise campaigns for better ROI.

Flexibility:

You save ad money if your campaigns require little work.

Cost scales with business growth:

While the agency's fee increases as your

ad spend

grows, the percentage remains the same.
Disadvantages
Less predictable cost:

Since the fee is based on your

ad spend

, the cost can vary monthly.

Potential for conflict of interest:

Some agencies may be incentivised to encourage you to increase your

ad spend

to increase their own fees. This is why it's really important to have established target metrics. 
For most clients, we quote a single fee for your Google Ads needs, which doesn't go up even when your clicks do.  
And if you have an enterprise-sized budget that needs a customised solution and an exclusive team, we'll provide a flexible fee structure.
How to View Daily Costs at the Campaign and Account Level
Keeping an eye on your Google Ads costs is essential for maintaining a tight lid on your budget and maximising ROI. 
View Daily Costs at the Campaign or Account Level From the Transactions Page
Sign in and head to your Google Ads account page. Next, click the "Tools & Settings" icon and choose "Billing," and click the "Billing Activity" tab. There you'll see your daily costs for each campaign.
View Daily Costs at the Campaign or Account Level From the Reports Page
You must head to the "Reports" page for your daily campaign and account costs. Just click on the "Reports" tab and select "Predefined Reports" from the menu on the left-hand side.
To View Daily Costs Breakdowns For One or More Campaigns
Click "Budget name " from the "Predefined Reports" menu, and select the "Budget name" that corresponds to your campaign name. Here you can view daily cost breakdowns for your campaigns.
To View Daily Costs Breakdowns At the Account Level
Under the "Row" section, click "Budget name" and then "Delete." You can view daily cost breakdowns at the account level for a given period.
Take Your Dollar Further With Digital Spotlight
Are you tired of agencies locking you into long-term contracts promising unrealistic results? Look no further than Digital Spotlight. 
With mathematicians as founders and a focus on data modelling, advanced statistical analysis, and multi-variant testing, we'll help you get more loyal customers and sales at a lower CPA.
Digital Spotlight is at the top 2% of Google's highest-level Premier Partners, so we have hotline access to Google Ads' top-notch support teams.
Choose Your Budget. We'll Estimate Your Results.
We'll collaborate closely with you to deeply understand your business and goals. We'll only quote you if we can ensure that every dollar you spend delivers value.
Adjust When You Need, Start or Stop Anytime
Situations can change, and so do budgets, so we offer flexibility. Unusual for an agency, yes. But we don't tie anyone down with contracts – we never have and never will. 
The clients we have today stay because we deliver results. Our 95.67% client retention rate speaks for itself. We're always at the forefront of online marketing and advertising.
Pay for Real Results
We believe in paying for actual, tangible results. That's why we only charge a flat fee for our services, and you'll pay Google directly for the clicks you get. We'll tell you what's happening, what works, and what doesn't.
Careful Management Keeps Google Ads Campaign Costs Down
Digital Spotlight doesn't charge a performance bonus. Your website gets more valuable while it gets cheaper to run. You can read our case studies to learn more.
In the case of Twomey Dispute Lawyers, as of May 2023, we've increased their clicks by 550.83%. We've lowered their CPC by 65.08% on highly competitive keywords at a 620% conversion rate.
"We've been working with the team at Digital Spotlight on our SEO strategy for a couple of years and have just recently brought across our Google Ads. A great team to work with, with great communication and who create great results!
~ Jordi Twomey, Twomey Dispute Lawyers
Customising Your Report
Our solutions are tailor-made to your business and yours alone. We don't offer cookie-cutter services. The same applies to our reporting approach, highlighting key metrics and performance indicators that meet your needs. 
You'll find it unusual that we communicate so much. That's because we want to report on what we're doing, ask how we can do better, and (most importantly) celebrate your wins with you.
Evaluate If
Google Ads
is the Right Investment for Your Business
While Google Ads can effectively get your message in front of your target audience, it isn't perfect. Google Ads typically picks up only 30% of searchers, while the other 70% will instead click on organic results.
Every business is unique, so we listen, not pitch. Our objective is to get to know how your company operates and the obstacles it faces.
If we don't believe spending your hard-earned money on Google Ads is the right move for you, we'll tell you. We'd rather let you walk away than spend your marketing dollars trying to show you. Believe us when we say we work differently.
Frequently Asked Questions
1. What is budget, bid, and spend for Google ads costs?
In your advertising campaign, the budget represents the cap on your expenses within a specific timeframe.
On the other hand, the bid determines the cost you're willing to pay for each click, influencing your ad's position.
Finally, the spend refers to the total dollar amount you've invested in the campaign, considering the number of clicks and interactions that occurred.
2. What is the cost-per-click for long-tail keywords?
Long-tail keywords (three words or more) usually have a lower CPC than short-tail ones due to their specificity and lower competition.
For example, short-tail keywords like "food near me" might have a CPC of $2.09, whereas long-tail keywords like "taco bell near me" could have a lower CPC of $0.79.  
3. Identify the most expensive keywords to advertise on Google ads and how to avoid overspending.
Expensive keywords in Google Ads are often related to finance, law, and healthcare industries. Examples include "insurance," "loans," and "attorney."
4. Identify the most expensive keywords to advertise on Bing Ads and how to avoid overspending.
Expensive keywords in Bing Ads are similar to those in Google Ads:  examples are finance, law, and healthcare. But generally, the CPC is lower in Bing Ads than in Google Ads.
5. Measure the average cost per click for your business's keywords and take action accordingly.
Use Google Ads Keyword Planner to estimate the average CPC for your business-related keywords based on your industry and competition.
6. How much do Google ads cost the average medium enterprise in Australia?
For small to medium-sized businesses in Australia, Google Ads typically cost $1 to $25 per click on search ads and less than $1 for display ads.
7. How much do small businesses spend on Google ads?
Small businesses typically spend $1,000 to $10,000 monthly on Google Ads. The amount varies based on industry and business size.
8. Explore how much small businesses typically spend on Google ads and how to get the best ROI.
Your ads must be appropriate to the search query, have a high bid, and have a high-quality score to get the best ROI for your ad spend.
9. Calculate your profit margins using Google ads and optimise your campaigns for better results.
Achieving a favourable return on investment (ROI) is within reach when using Google Ads. We have evidence to back us up! Read some here.
10. Should you invest in SEO instead of ads?
SEO helps you organically attract visitors by improving your website's ranking in search results. Combining SEO and Google Ads can be a great way to boost your business.
11. Is it possible to know your competition's ad budget?
Tools like Google Ads Keyword Planner can estimate your competition's ad spend based on their keywords and ad positions. Still, you can't know their exact ad budget.
12. What if your competition clicks on your ads?
Click fraud happens when someone repeatedly clicks on your ad to waste your budget. You can report suspected click fraud to Google Ads, especially if you think your competitors are doing it.
13. Is Google AdWords free?
No, Google Ads is not free.
14. Can you advertise using Google AdWords?
Yes, anyone can advertise using Google Ads.
15. Is Facebook Ads better than Google Ads?
Facebook Ads are ideal for reaching specific audiences, building brand awareness, and fostering customer engagement.
Conversely, Google Ads captures intent-driven searches and connects with customers displaying high purchase intent.
The choice between the two platforms hinges on your objectives and target audience, and many businesses achieve success by utilising both.
16. What is our Google Ads pricing structure?
We have a fixed-fee structure for setting up, managing, and optimising campaigns on Google Ads.
17. What scheduling options do we provide?
We provide various scheduling options depending on what we believe will work best, such as your bid strategy and displaying ads on specific days and times.
18. What previous results have we achieved for clients?
Answering this question will require another article entirely. But feel free to read our case studies and see the results.
19. Where can ads be displayed?
Google Ads can display your ads in different places, such as SERPs, websites, and mobile apps.
20. What are our keyword policies?
We have dedicated researchers who conduct extensive keyword analysis to pinpoint the best keywords to target for your campaign.
21. How does customer lifecycle affect Google ad cost?
Aiming for customers in the early stages of the funnel usually costs less than targeting those in the later stages.
22. How does quality score affect cost?
Quality score is how Google Ads rates your ads' and landing pages' quality and relevance. When your quality score is higher, you'll pay less per click for your Google Ads.
23. How do current trends affect Google ad costs?
Trends can lead to higher competition for specific keywords, which results in higher CPC.
24. How does advanced targeting affect Google ad costs?
Targeting specific audiences through demographics and location may lower your CPA as your ads only appear to people likely to purchase your goods or services. However, if you target a very specific audience, you may face higher competition for those keywords, which leads to a higher CPC.
25. Can Google Ads waste money?
Yes, Google Ads can be a waste of money if not managed properly. But if your ads are targeted properly and have strong ad copy or relevant landing pages, you may save your advertising budget.  
It's best to work with professionals. To learn more about Google Ads, email Digital Spotlight at [email protected] or set up a free, no-pitch consultation.