(PROBLEM)
Online results in need of a facelift
Dr Zoumalan had always relied on referrals for much of his business and wanted to increase inquires for high-ticket surgeries.
Wanting a powerful online presence to solidify his brand as a high calibre surgeon, Dr Zoumalan built a new website and engaged multiple digital agencies in the past. Not much changed. In fact, the original site ended up being penalised by Google. This resulted in organic traffic to his website falling dramatically and the cost per lead became astronomical.
The good doctor wanted to rectify all this, with a focus of dramatically increasing online inquiries while decreasing his CPL by using organic and paid search as a primary strategy.
He again built another website with another provider, yet rankings, traffic and inquiries did not change: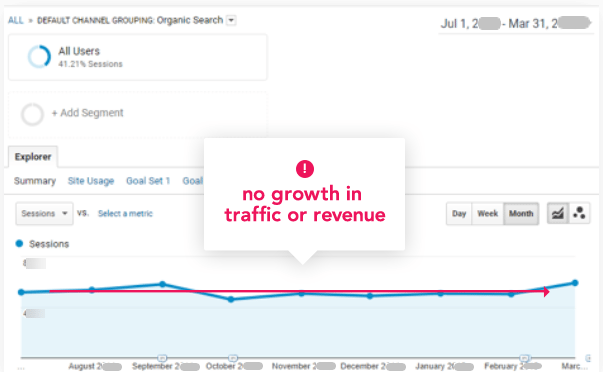 (DIAGNOSIS)
Our digital diagnosis
In April 2015, we put Dr Zoumalan's online presence under the microscope with a penalty audit & technical audit, identifying thousands of errors that had been ignored or missed. These discoveries included:
Red flag for potential algorithmic penalty on the site from past SEO campaigns triggering a detailed penalty audit
Nonspecific duplicate Title Tags not designed to drive action by users nor provide relevant information to search engines about the content of the pages of the site
Slow page loads due to bloated code
Significant amounts of thin content pages that added little value to users
Incorrect implementation of redirects
Previous SEO campaigns were over optimising the home page for a wide variety of terms, including service-specific terms. Therefore not getting the rankings that they should have, based on domain authority
Detailed link profile audit and assessment, and creating a plan of action to clean up past indiscretions.
Missing Meta Descriptions leading to random, sometimes irrelevant snippets appearing in the search results pages
Out of date sitemap, pointing Google and other search engines to dead pages
Inefficient site architecture causing crawlability problems for search engines
Google Ads Search was being executed poorly, with loose ad groups and little to no testing.
No use of Google's display network to augment offline branding efforts