(PROBLEM)
An online presence on a downward slope
Just Camo had a great history in traffic and sales, but changes in Google's algorithm and poor SEO management led to a consistent decline in year on year rankings, traffic and sales.
They just wanted to get back to the good old days. So, we set a goal to increase year-over-year traffic that would directly impact both online and phone sales.
A major challenge was that when they came to us, Christmas was fast approaching so they needed fast results.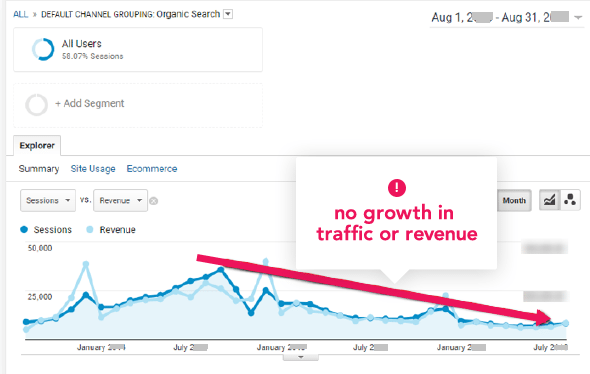 (DIAGNOSIS)
Our discovery
Our preliminary technical audit found over six thousand technical errors, including the site being hit by Google's panda penalty. No other SEO had discovered this.
Our findings included:
Duplicate and generic Title Tags not designed to drive action
Overstuffing of keywords in multiple types of meta tags
Duplicate & Missing Meta Descriptions leading to random, sometimes irrelevant snippets appearing in the search results pages
Keyword research & theming were also not thought out well with missed opportunities for getting high-value terms sitting on the second page ranked. These had been completely ignored/neglected
Red flag for potential algorithmic penalty on the site from past SEO campaigns triggering a detailed penalty audit
Robots.txt issues
Sitemap problems leading to inefficient crawling from search engine robots
Incorrect set up of canonical pages on the site, leading to scattering of domain authority
Multiple redirect issues
Thin content